Hello Darlings!!!
Like I mentioned before I will be going on a trip this weekend.... I'm going to Vegas for my sisters bachelorette!! I'm super excited since it will be my first time going to Vegas as an adult and legally able to gamble and do the fun stuff!!
Anyway, I wanted to share some of the stuff I'm going to be taking with me!! I am actually quite proud of myself since I did not OVER PACK but... I may have gone over board on the make up!! To my defense the ladies I am going with, are not that into make up so I was asked to bring extra!!
First thing is first.... what I did today to prepare myself for my trip....
1. Hair & Face Mask
2. Mani & Pedi
3. Exfoliated my body
4. plucked the BROWS
Me time!!
Now on to the goodies!!!
Bath & Body Works Pure Paradise lotion, body mist, & Beach Glow Body lotion... This stuff smells AMAZING!!! Pretty sure this will be my signature scent this summer!!
The hair products I chose to travel with me!
My Tanning lotions.. Hawaiian Tropic are my FAVE I buy these products religiously!!
I don't know why these pictures came out so bad!! Anyway, I got most of my things waterproof concealer/mascara/deo since I will be spending most of my time at the pool
The lipsticks I'm bringing with me.. I mostly picked bright colors since I wont be really doing anything drastic to my eyes....
The only palettes I'm bringing with me... Lorac Pro and Sleek I Divine
Now for Face I am bringing My sleek palette/ Model Co Cheek and lips tint && Mary Kay Cream Blush....
This is the only foundation I'm taking && it's mostly just for night time use... Then the pencils, liquid eyeliners, pigments, Eyebrow gel
I also took pictures of a couple of outfits I MIGHT be wearing.... I'm a pretty simple kind of girl so these outfits are nothing fancy...
I think this is flirty/colorful/ & fun
Pool Party ready.. Bright and Comfy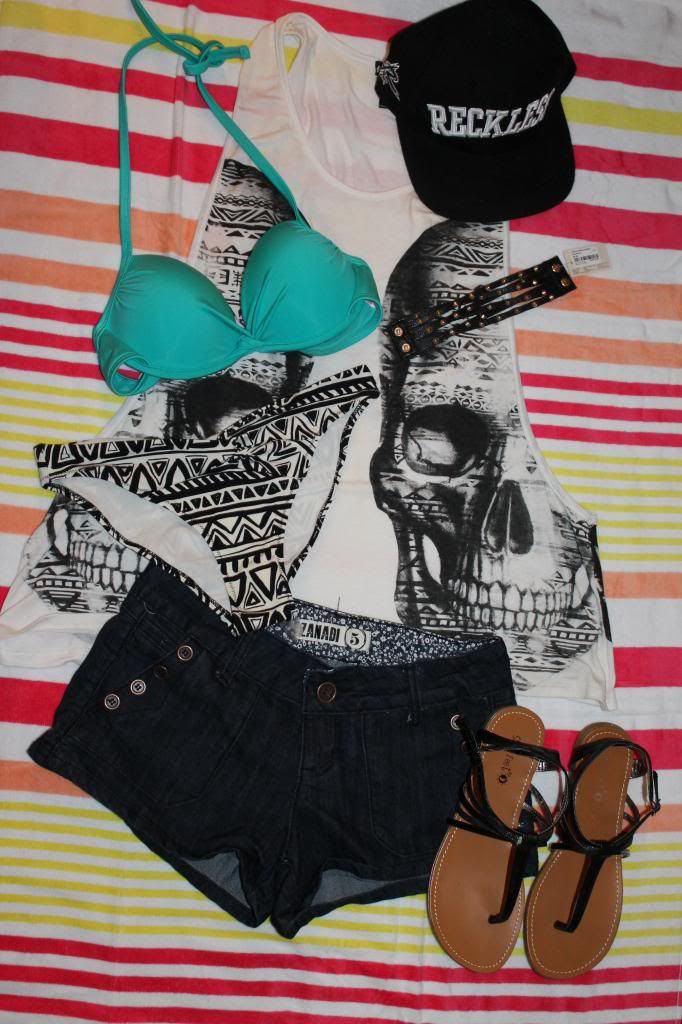 Edgy with a pop of color... This one is my favorite.. I love the rebel kinda look...
Hope you girls have a wonderful & safe Memorial Day Weekend!!!
Exes && Oh's
Jessyka