Hello Darlings!!!
The beautiful Jessica from
ALLTHINGSADDICTED
is hosting another giveaway!!! Yes, you read that correctly ANOTHER GIVEAWAY!! She's such a sweetheart!! The prizes are the following:
BH Party Girl Palette, 4 Julep polishes, and an HK eyliner.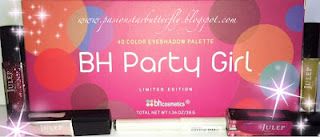 To enter her giveaway click
here
!! You have until October 5th to enter!! Good luck to all you Lovely Ladies!!
Hugs&Kisses
Jessyka